DAVID BERNSTEIN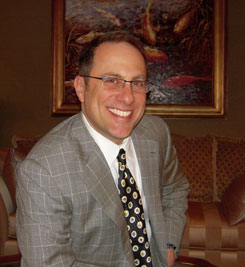 INSPIRED BY A LEGACY. DEFINED BY DISTINCTION
"Building a home that is in sync with its environment while meeting the desires and dreams of a homeowner is, in itself, creating a legacy of art," David Bernstein, Founder of Crestwood Companies.
Crestwood Companies has earned a reputation for setting high standards in the residential construction industry for the past 30+ years. Dercum's Dash on the mountain at Keystone raises the bar for a lucky few to own and enjoy an unprecedented lifestyle. David Bernstein, Founder of Crestwood Companies, is a third-generation builder with construction in his blood. After graduating from North Carolina State University, he joined the family firm and learned every aspect from the ground up starting with permit processing. Over a 10-year period, David worked his way from an entry level position, ascending to Vice President and Partner. In 1996, David and his wife, Kellie, who had a design background, set out on their own to pursue their focus and love of custom residential construction. Building and creating is truly their passion.
Prior to launching Dercum's Dash, David was honored with the prestigious Finest for Family Living awards on two separate occasions. His portfolio of custom homes extends from Union Farm in Mt. Vernon, VA; The Courts of Foxhall in Washington, D.C.; The Townes of Falls Park in Falls Church, VA; custom homes in The Kentlands in Gaithersburg, MD; to custom homes in Lyon Village in Arlington, VA. His skills include land acquisition and development, financing, subcontractor relations, scheduling and budgeting, product development and merchandising, personnel management, building code compliance and quality control. He's worked in virtually every role including: Project Superintendent, Project Manager, Sales Manager, Production Manager, VP and hands-on Partner. As founder of Crestwood Homes, David draws upon his experience to successfully communicate and coordinate with a team of bankers, land planners, architects, designers and subcontractors to effectively redefine the building experience for his clients. One of the most rewarding aspects of David's work is interacting directly with the homeowner through all facets of the building process.
David has been married to his wife Kellie for 22 years and they have three sons. Moving from metropolitan D.C. was an easy decision for the family. Not only is Dercum's Dash an unparalleled opportunity to combine David's passion for building custom homes with artisan finishes directly on the mountain of Keystone, but his family especially enjoys the Colorado lifestyle. Dercum's Dash is a very special project and the new frontier for Bernstein to build out his vision of estate homes--homes intended to be lived in and treasured for generations.
David is privileged to introduce such distinguished homes to Keystone, Colorado. "It's my intention that buyers in Dercum's Dash appreciate, enjoy and relish the memories made in these homes for many generations to come."